Home
> Product Info > System > Block Controller
Block Controller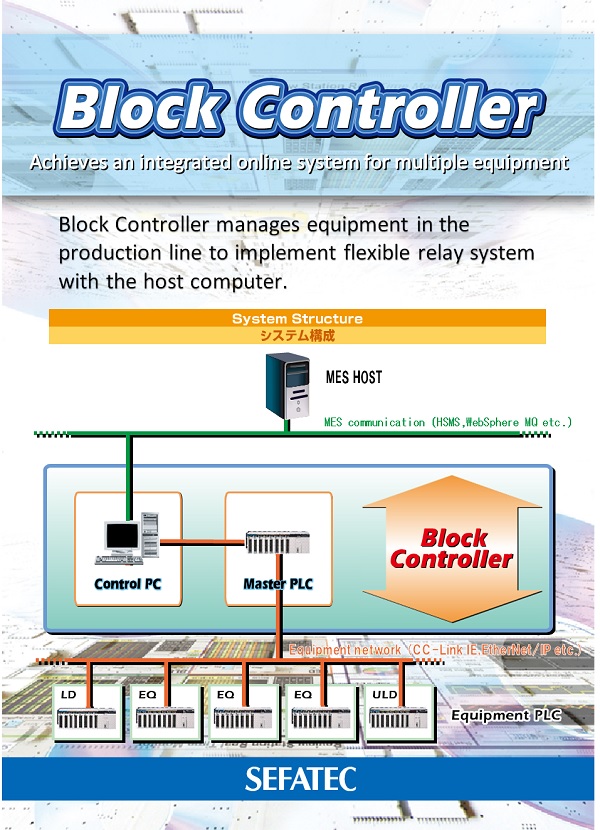 Feature
Flexible and diverse system construction with CC-Link IE and EtherNet/IP is possible.
Devices (controllers) of manufacturers or compatible devices can be connected.
System construction using an open network is possible (multi-vendoring).
High-speed detailed data monitoring and collecting are enabled.
Unique work tracking method allows flexible data management.
Early implementation of the system is possible by standardized specifications and softwares.
We can provide reliable integration works by staff familiar with the industry.
Equipment status can be shown graphically in order to be checked or edited by operators easily.
Functional overview
Communication function

Host communication function such as HSMS, WebSphere MQ
Data transfer function by file sharing, FTP etc. (cooperation with other systems is possible)

Monitor function

Tracking information of Production line and inside the equipment
Production line status display
Production work information display
Host communication status display

Settings

Setting and process start control for newly input lot data
User authority for parameter maintenance, password setting
Host communication parameter setting
Recipe setting

Database functions

Host communication log
Process history
Alarm history
Recipe modified history
Operating environment
Microsoft Windows
Memory : 4Gbytes or more
Monitor : SXGA (1280 X 1024) or more